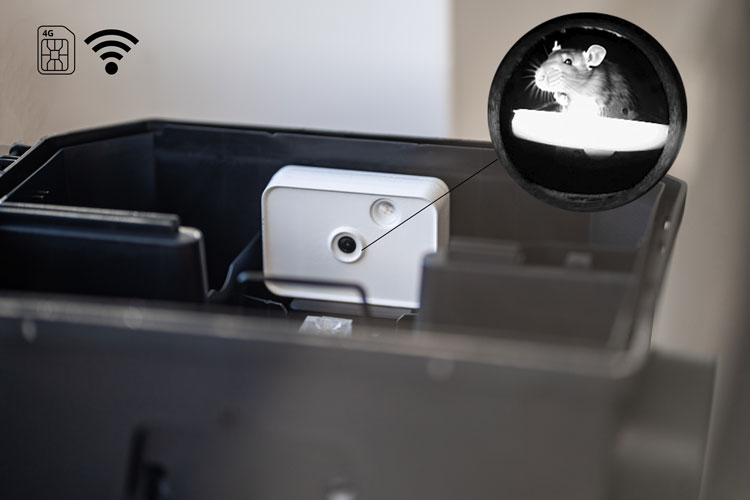 Your AI eye in every box, anytime, anywhere in the world
The eMitter Cam is THE solution for the pest control industry. It simply changes everything. You can equip any pest box or areas with it and our AI will tell you when and where pests or grubs were detected and send you a picture as proof. It's kind of like having a trained technician in every one of your boxes around the world, at every second, telling you the number and species of pests. This will simply change everything
Pest control meets AI meets IoT
Our eMitter app has been used by leading professionals and end users in over 30 countries for over 10 years, and you can install the eMitter Cam with the app in seconds. Installation, image management, free customer logins, temperature monitoring, AI analysis and much more can be controlled in our app as well as in our online portal. Our AI shows you everything you need to see in a smart dashboard to directly identify where pests are and where you can take action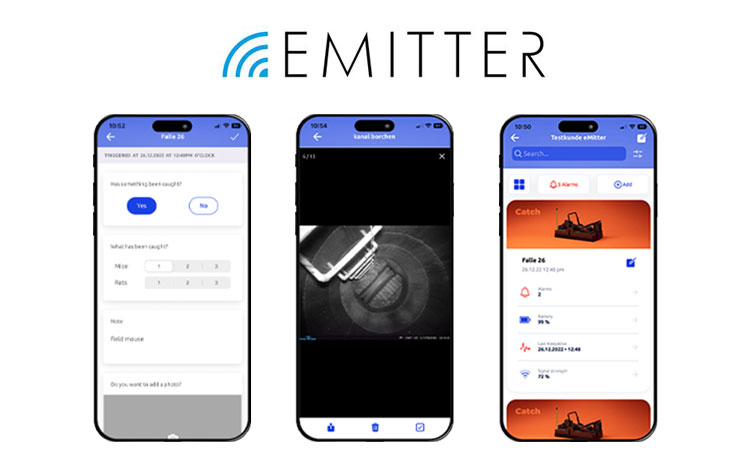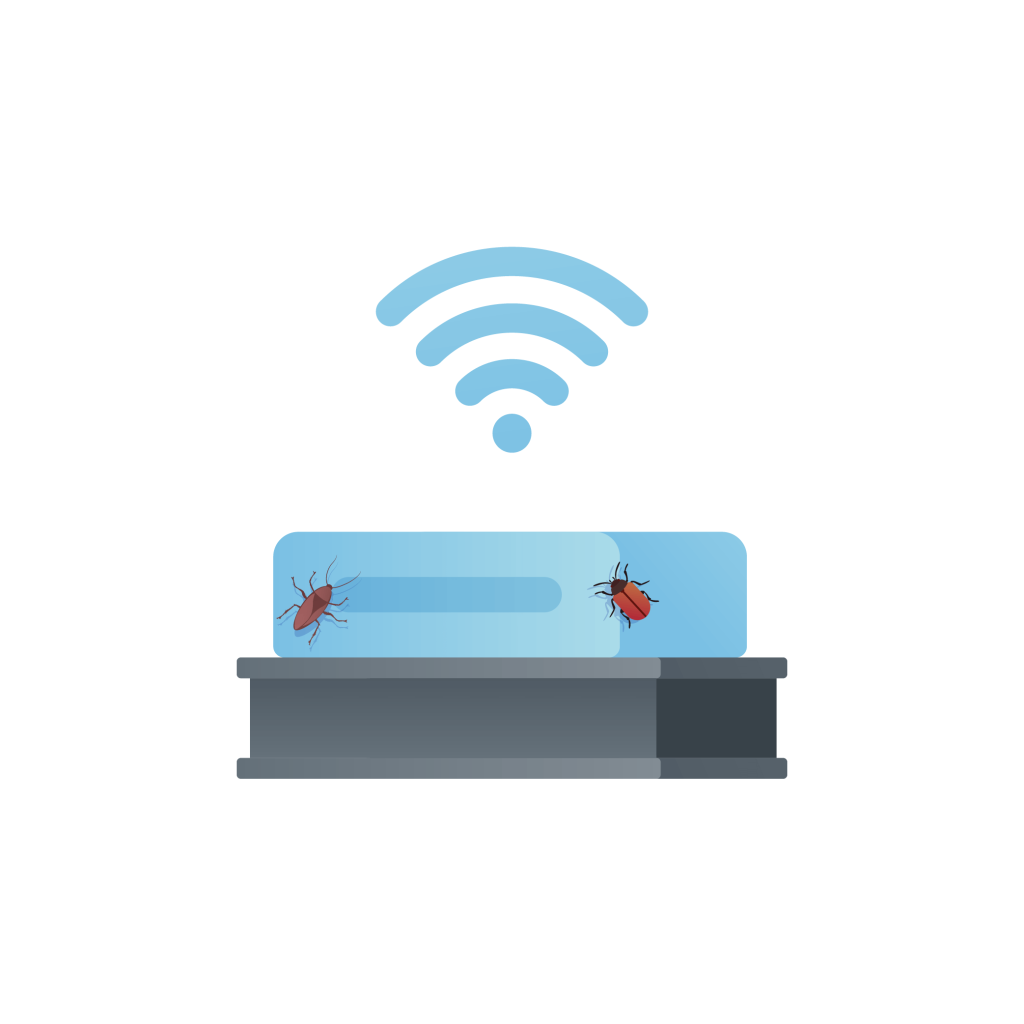 eMitter ultra low power IoT Cam
Place digital box: One control per month – becomes 24/7 monitoring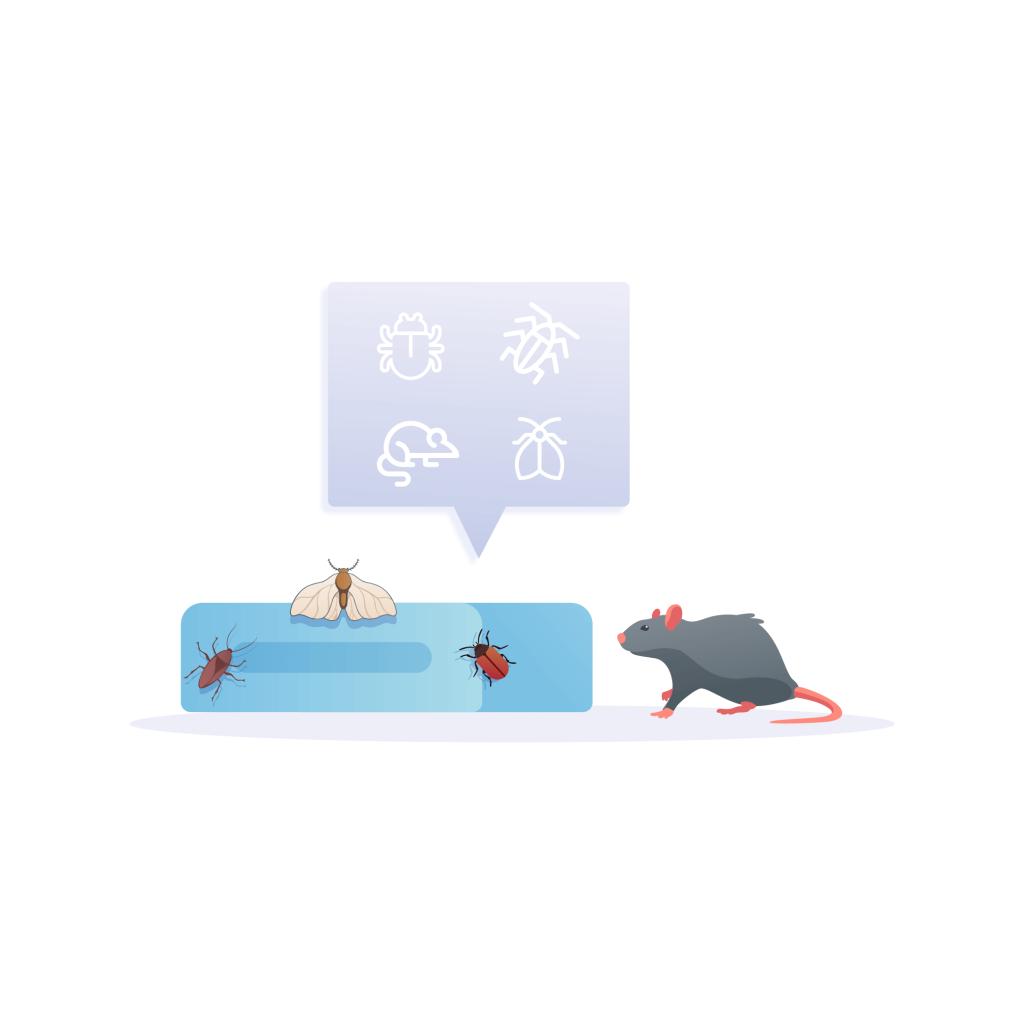 Takes one or more photos per day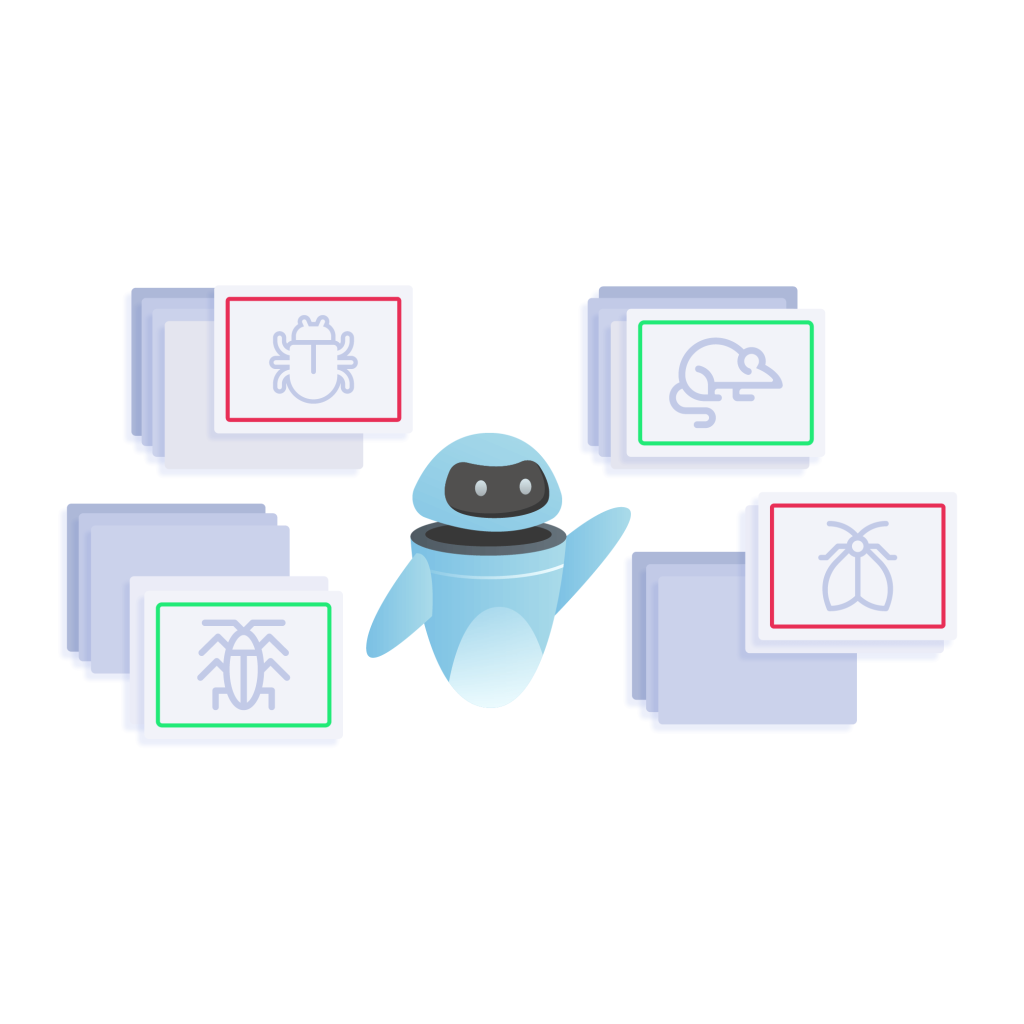 The AI analyzes the images and informs immediately in case of a change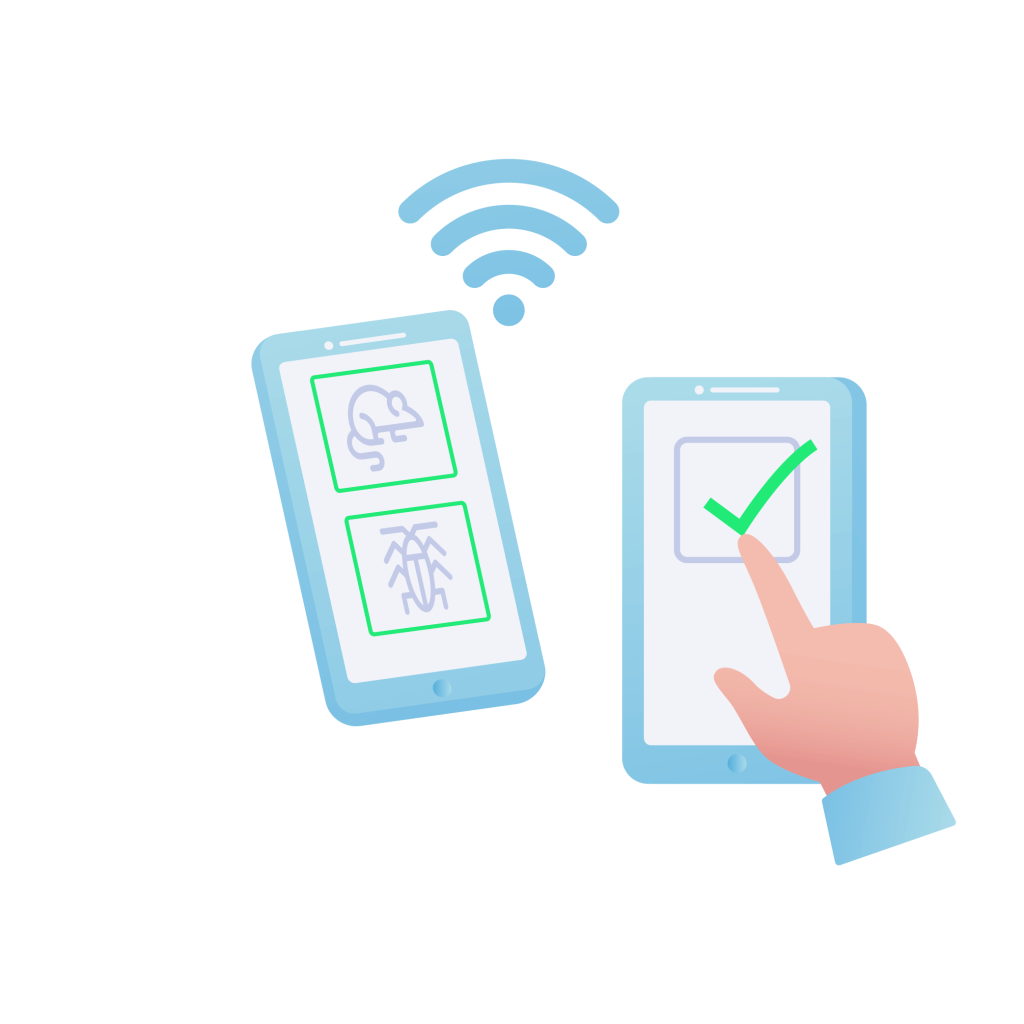 No false alarms! Images are reviewed by the Pest Manager prior to the visit. This is how AI continuously becomes more powerful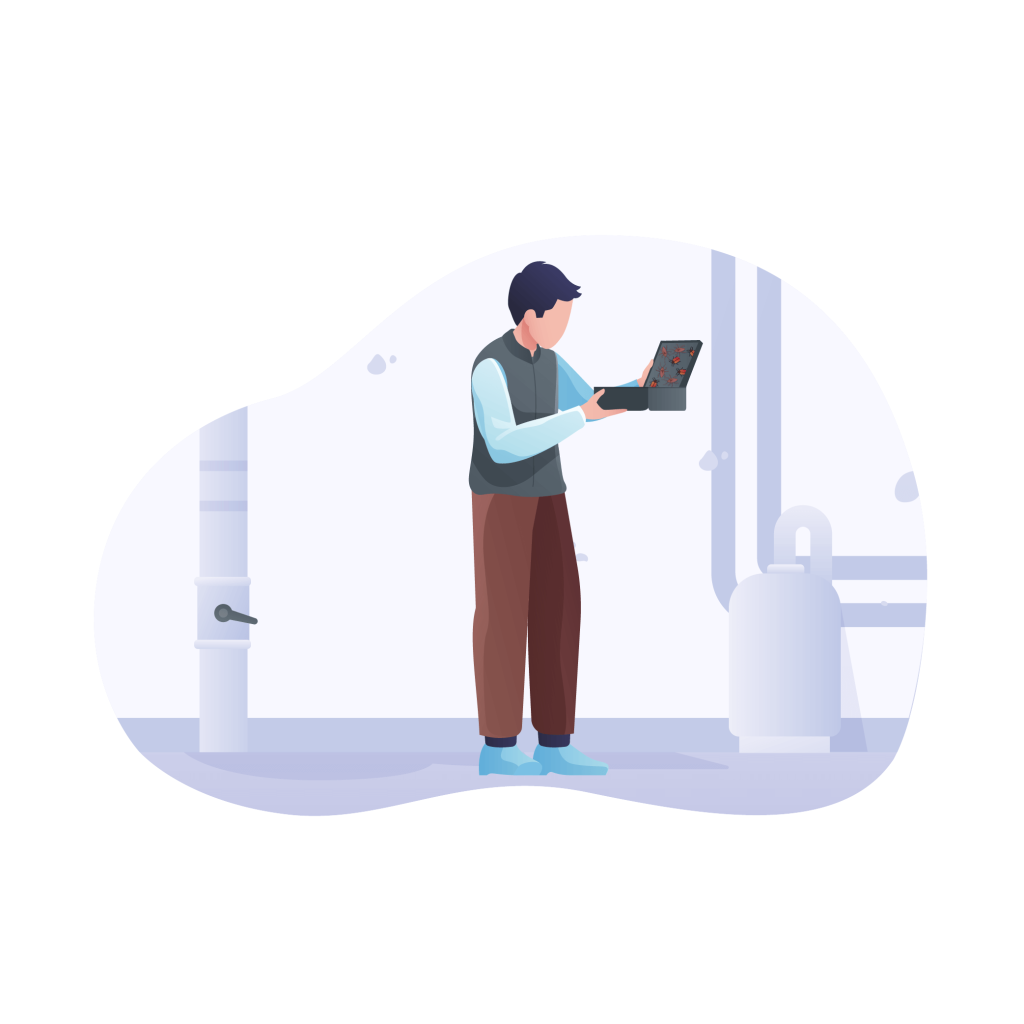 Only stations with catches still need to be visited
Worldwide connection, as secure as it gets
No matter where, no matter when, our eMitter Cam is equipped with SIM card and 4G technology. Nevertheless, the battery lasts over 2 years, where the competition only manages 3-4 months. It uses NB IoT and Cat-M bands, the IoT Champion standards. You don't need routers, gateways, repeaters or the like, so you can install one or 10,000 cams without any other complicated technology. Thanks to secure MQTT transmission over leading networks, such as T-Mobile's, combined with our German cloud and years of international experience, you can count on us with confidence. We assure you of that.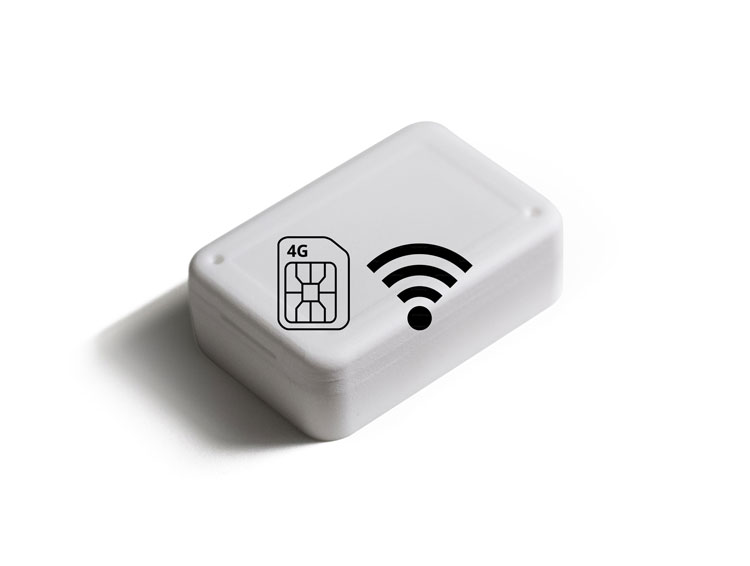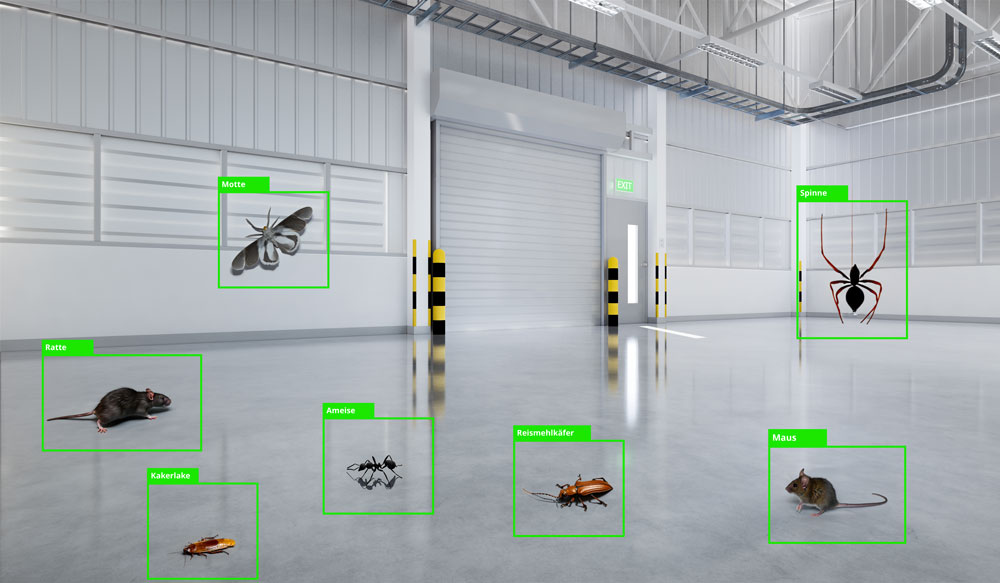 Image AI" evaluates any number of images very quickly and often better than humans. Our AI is trained for years and delivers pest-relevant information to you very reliably, including "Bait feeding detected at box 16, picture attached." or "8 food moths detected in trap 28." as well as "1 rice flour beetle detected at trap 4 in mill 2." or "1 rat caught in trap 17, picture attached." To check the AI before you go, you can look at the picture again and plan your service visit perfectly. If the mouse is trapped in production, something has to happen now, if it's just a moth in the stock 2, then maybe not until the week after next at service.
Video eMitter Cam Explanation
Watch our eMitter Cam product video here and learn every detail.
Strong International Partners
As an IoT pioneer who invented the first digital trap in 2006, we have always worked with the leading companies in our industry. So the eMitter Cloud is naturally connected to software companies like Nector, PestSoft, Hygitec and many more, internationally. You have your own software? No problem: through our secure API, which we have defined with the above-mentioned software companies, we can also dock eMitter directly and without detours directly with you and integrate the alarms into your software solution. We have already demonstrated this in over 30 projects and support these solutions with our strong team worldwide."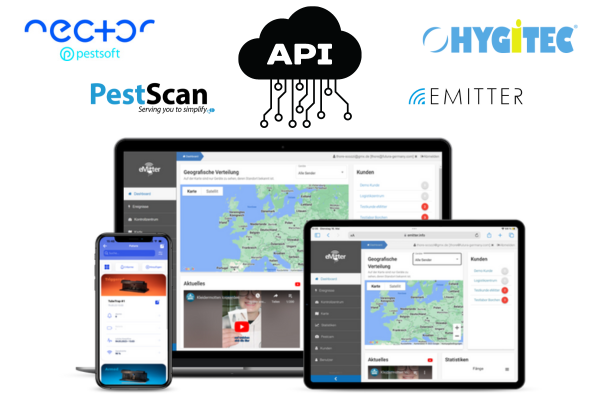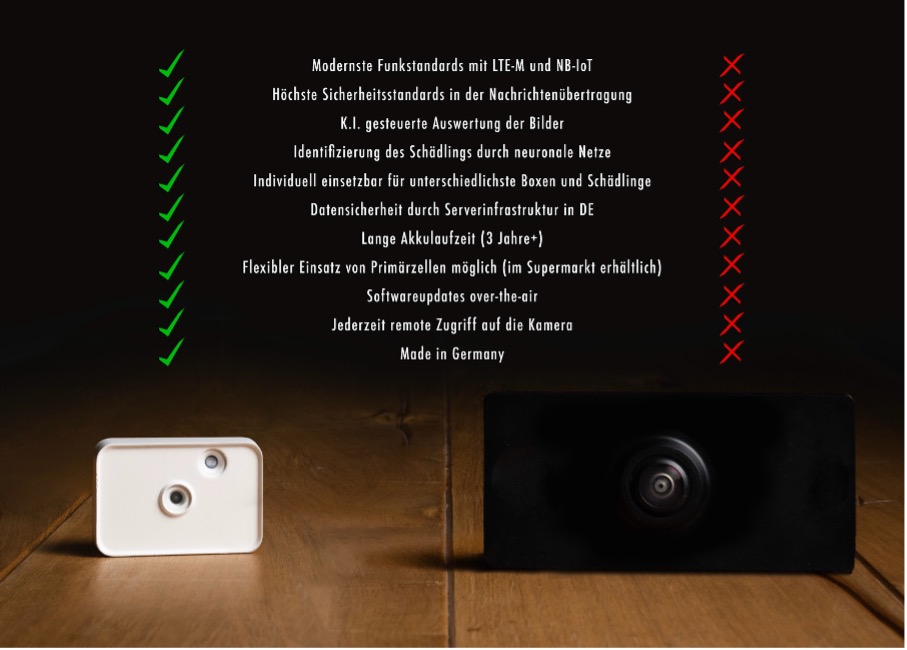 Made in Germany, since 2006
We are proud that we have been manufacturing all our eMitter products with quality in Germany since 2006. This also stands out because our IoT devices have an average service life of over 10 years in some cases. We work with leading companies such as Bosch, Fraunhofer Institut, Telekom and many other top players to create DeepTech made in Germany that is exported worldwide, something we are proud of as a family business without investors. The patented eMitter Cam, a world innovation, is also deeptech Made in Germany, making our industry more efficient and greener. From practice for practice
We have been working with leading professionals for over 10 years and they have been instrumental in making the eMitter Cam a success. Through ideas from our customers and active involvement in development, eMitter is 10 steps ahead of the competition. It fits perfectly in any scenario: supermarkets, food industry, pharmaceutical industry, warehouses, agriculture or even in your home – everywhere the eMitter Cam is your 24-7 pest controller, working extremely efficiently for you around the clock, always in a good mood and without being sick.
The eMitter Cam in Futura's Outdoor Runbox detects mouse but also rat activity. It can analyze bait and detect feeding traces, tox and non-tox. It detects if traps are cocked, triggered, or if mouse or rat have been caught or how many and what species. The Outdoor Runbox is made for up to 4 mouse traps or a rat trap and any bait Technology that convinces
SIM card with NB IoT and Cat-M. 2 years+ battery life, changeable. Smaller than a pack of cigarettes. Water + dust protected. AI Image Analysis. Species identification. Number analysis. Contamination detection for box cleaning recommendations. Best prices, industry-wide. Leading technology, produced to the highest quality standards, in Germany. The most secure cloud and data connection available anywhere in the world. You do not buy a product like another, you buy the best technical solution from the market leader and manufacturer directly. You can build on that.
The complete digital operation
Only since the eMitter Cam does it exist: the fully digitized operation, where not only rodent boxes and 1-2 cameras are applied, but where every pest box is 100% digitized: mice boxes, rat boxes, moth boxes, storage pests, cockroaches, ants, bed bugs, termites, flying insects, wildlife and much more – for all these applications in the life of a professional pest controller, the eMitter Cam is made and smartly analyzes your pest presence so you can shine with your customer. Best of all, you can, but you never have to use poisons again, so the eMitter Cam is also perfect for AIB, IFS and other farms that value organic, IPM control.
Acute action and direct alarms
By one click in your app, or in the web portal, you can change the intervals of the photos and change them from daily 1x to e.g. 10x per day. This changes the battery life but you can be informed faster in case of acute measures. You can also request and view a photo "now" at any time – from anywhere, anytime. This technology also allows us to send new software versions to the cam as soon as security updates or other features are available, simply via FOTA (Firmware Updates Over The Air). We will not stand still in the future.
Our eMitter Cam is already under development to become even better for you. In the future, we would like to release another eMitter Cam with motion detector for those use cases where you want to have a live picture of the rat himself. However, we believe that this rarely brings any real added value, as it has a negative impact on battery life and the added value of the rat eating the bait is then quite low, as you get the eaten bait or the mouse in the trap pushed via the eMitter Cam even so. Another innovation will be the eMitter Cam for LED UV devices. Here we are already researching and developing vigorously and will soon be ready to offer you an outstanding solution.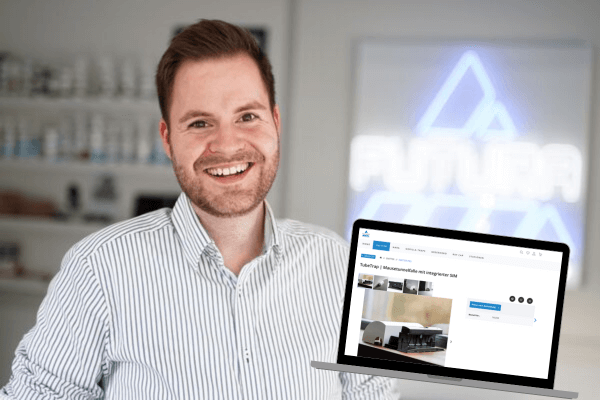 You can conveniently purchase our Tubetrap online in our B2B webshop. Please note that a tubetrap is more expensive than, for example, large quantities. We will be happy to make you an individual offer for larger quantities and flexible payment. You can also always enlist the help of our experienced industry experts and customer advisors Sebastian Junge and Guillaume Cavallier.
TRAINING AND INSTALLATION
You can install eMitter Cam within seconds and everything you need to know we have provided for you in a video. However, if you would like to have training for your company or your customers, we would be happy to provide it. Either digitally via video call or as an on-demand webinar as well as, of course, gladly at our company or at your location, worldwide. Feel free to contact our customer advisors and we will meet with you very soon!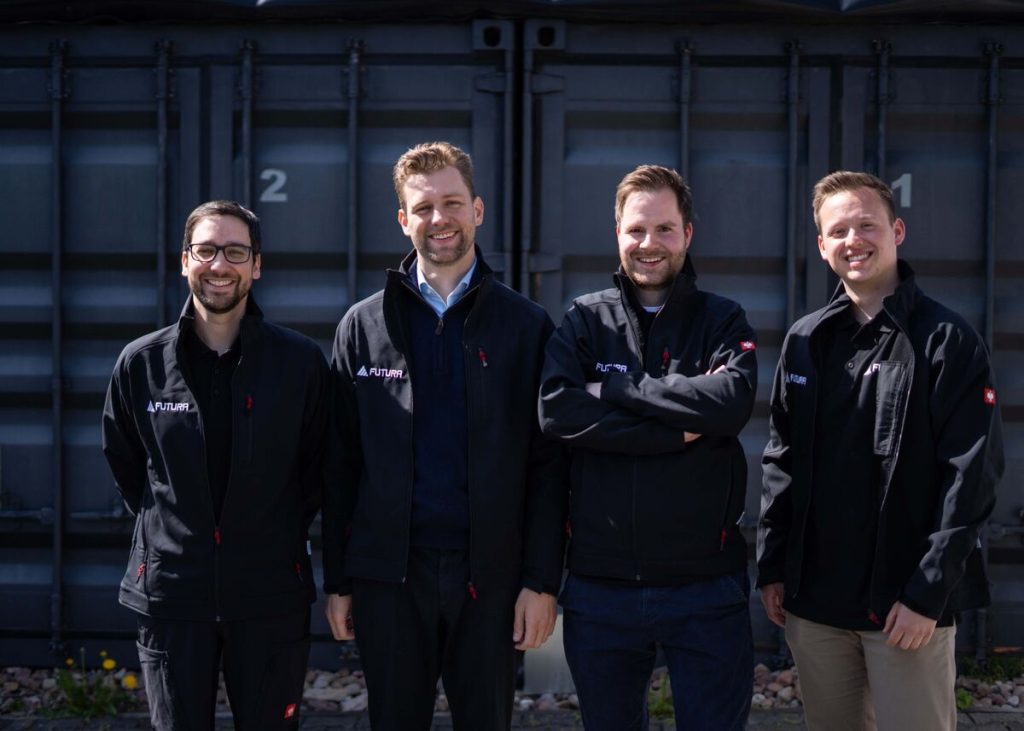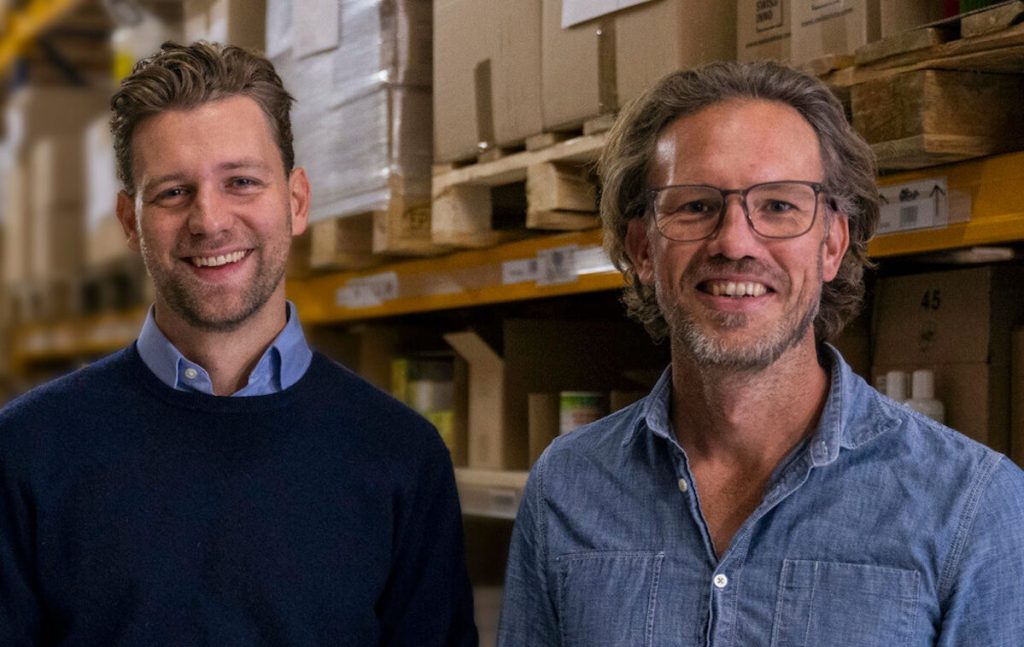 As a family business without outside investors, we can afford to plan and invest for the long term. In over 20 years of company history, we have already invented many innovations and have been allowed to supply them to leading companies worldwide – we are proud of this. We are not looking for short term profit, but want to build a strong and innovative company in the long term that is your go-to place for innovation as well as deep tech IoT solutions with the highest quality. Our managing partners Oliver Klute and Daniel Schröer have a combined experience of more than 35 years in the industry and were allowed to learn pest control as children from their parents, who at that time worked for the world market leader. We have a vision in the next 10 years to not only be the IoT and innovation leader you know today, but to be a multinational company that delivers products to professional pest controllers worldwide that make your pest control better, greener and more cost effective. We are proud to be able to walk this path with you as our customers. The eMitter TubeTrap is THE smart trap solution for your rodent control or rodent monitoring. A tunnel for indoors as well as outdoors with catch and "empty catch" discrimination, monitoring mode and much more."