non-toxic
insect resistant
perfect fit for Gorilla Traps® rat and mouse traps
applicable in the food industry
Suitable for use in wet areas
NARA STIC BRIEFLY EXPLAINED
In the video, Daniel Schröer briefly introduces the NARA Stic. Learn what makes the Monitoring Stic unique and why it is part of modern monitoring.
Simply place NARA® Stic in unclamped beat traps to monitor rat or mouse and detect activity before rodents cause harm. Thus, conveniently, beat traps can also be used for poison-free monitoring. Already installed traps do not have to be removed and the entire station replaced, but are simply supplemented by NARA Stic. Based on the bite marks, you can spot an infestation in your trap or station and take steps to control the rodents.
USE NARA AND SAVE IN THREE WAYS
We wanted to know how many rodenticides could be saved by using NARA and how the switch to NARA would affect labor time and costs. Read about the astonishing result we came to.
PERMANENT MONITORING - SAFE, EFFICIENT AND AIB-COMPLIANT
AIB has officially confirmed that the non-toxic, allergen-free monitoring product NARA® Stic, Bloc and Spray meets the requirements of AIB International's Consolidated Standards because it does not attract and feed other pests.
In addition, Gorilla Traps, as a stand-alone product or in combination with the eMitter digital trap control system and NARA® products, meet the requirements of the AIB International Consolidated Standards.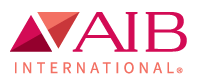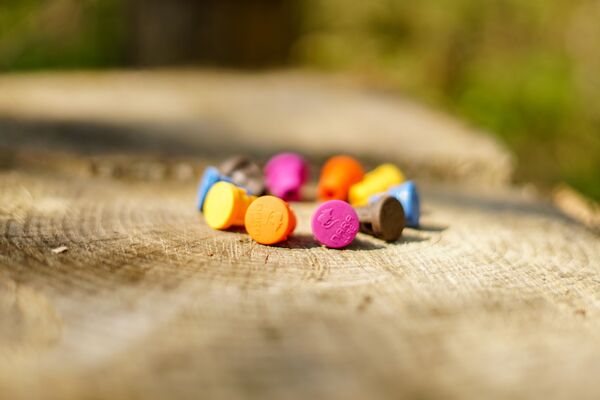 ALLERGEN-FREE MONITOR FOR RAT AND MOUSE TRAPS
Allergen management is a common topic in many food operations.
NARA® is the first allergen-free monitor developed specifically for this application.
Various food standards as well as legislation now prohibit the use of anticoagulants for monitoring purposes. Only when rodent activity is detected may anticoagulants be used under strict restrictions.
WITH NARA® STIC THE MONITOR NO LONGER BECOMES FOOD
Conventional detection monitors have the distinct disadvantage of serving as food for the rodent and ensuring that rodents live longer and reproduce. In addition, most conventional monitors are prone to mold growth in humid areas. In other areas, they are often attacked by non-target organisms, such as rice flour beetles, cockroaches, silverfish, ants, snails, and moths.
Any monitors become unattractive after a short time or start to mold. NARA® Monitoring Stic in beat traps remains hygienic and maintains its full attractiveness for 3 up to 12 months. It is thus a worthwhile tool for placing an attractive monitor in a station in the long term. Professionals rely on NARA® Stic and can now act even more flexibly thanks to the variability of the 5 flavors.
NO MOLD, NO INFESTATION OF INSECTS
Nara was developed with and for the food industry and professional pest control. Organic bait varieties mold quickly, especially if they come into contact with water or moisture outdoors, which is almost unavoidable. After only a few weeks, they become very moldy and are no longer attractive to rodents, but the opposite: the rodents will never go to the station again. Nara cannot mold and is still a perfect monitoring tool after more than a year. It is not uncommon for Nara Bloc or Stic to show fresh bite marks on inspection after more than 12 months. In addition, Nara also can not be eaten by harmful insects, such as by beetles, cockroaches, ants and others.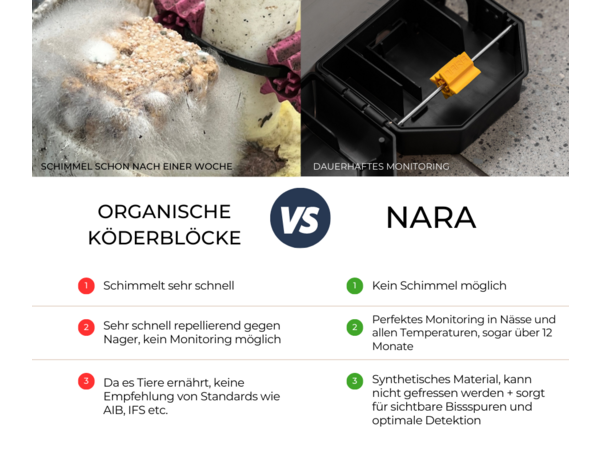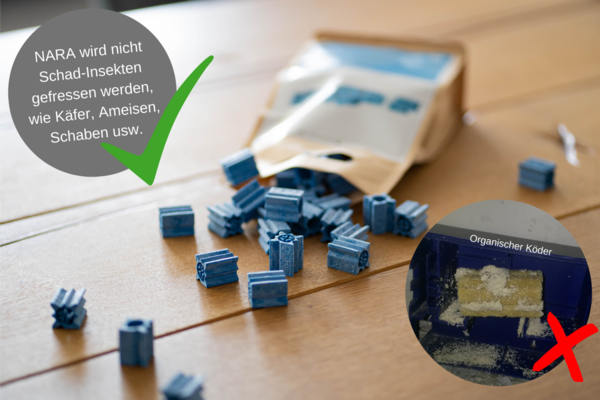 NARA IS THE PROFESSIONAL CHOICE FOR SECURE MONITORING
Compared to organic baits, NARA is not eaten by harmful insects such as beetles, ants, cockroaches, etc.
NARA® STIC - IN 5 ATTRACTIVE VARIETIES
NARA® Stic offers unprecedented quality in 5 flavors: Meat, Fish, Chocolate Nut, Mango and Vanilla.
For effective monitoring, we designed our NARA Stic to fit perfectly into the GorillaTraps beat traps.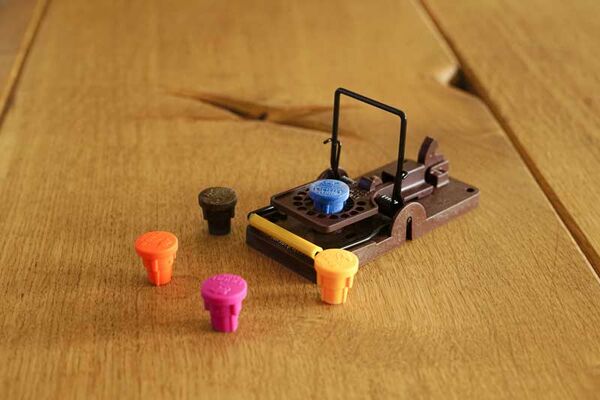 Additionally combinable with our
Our stations are optimized for any area where impact traps or monitoring are used.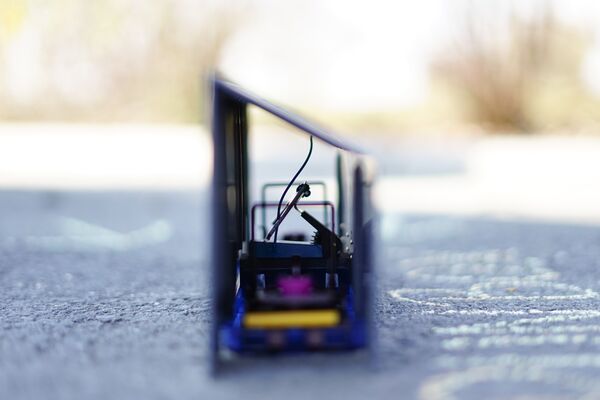 Do you have any other questions?