EMITTER
Pest control of the future
perfect stand-alone solution for digital pest control
via the eMitter® app you can view the status of the trap at any time
LIVE mode: location update every 2-3 seconds
No false alarms
Low energy consumption
Support term selectable from one to three years
Item number:
160014.1 (term 1 year)
160014.2 (term 2 years)
160014.3 (term 3 years)
MADE FOR ANY ENVIRONMENT
No matter if 60°C in Dubai or -30°C in Finland, no matter if water or dust:
you can rely on eMitter Outdoor.
THE PERFECT STAND-ALONE SOLUTION
Round-the-clock control for beat traps
eMitter® Outdoor Direct is the perfect stand-alone solution for digital pest control. You can view the status of the trap at any time – either via the online portal or directly in the eMitter® Pro app. Here you will not only be informed whether the trap is cocked or triggered, but also get a daily sign of life. This way you can be sure that the trap is active.
This so-called "Motion Technology" is unique worldwide and convinces with clear advantages: The transmitter automatically connects to the eMitter® Cloud. So you will always be informed about the status of the trap, regardless of your location. At the same time, the transmitter still operates in an energy-saving manner and does not trigger any false alarms.
Administration fees in the amount of 48,- Euro will be charged annually with a separate invoice.
SIM CARD INTEGRATED
We use the safest technology in the world. The 4G network with NB IoT and Cat-M standards is not only secure, but also available worldwide, whether in the city or in the countryside.
1x eMitter® Outdoor Direct
1x eMitter® Outdoor battery
1x GorillaTraps® rat trap
1x NARA® Lure chocolate nut
Management, evaluation, statistics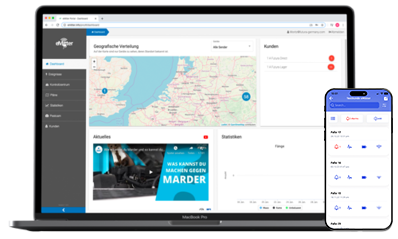 The eMitter online portal offers everything that demanding companies expect.
It is characterized above all by its ease of use. Here, customers are managed, floor plans are uploaded, infestation reports are retrieved, statistics are viewed u. v. m. The individual components such as traps and controllers are easily integrated on site via app.
How to quickly and easily install emitter outdoor direct
In this video you will learn among other things
what is behind the product
which technologies are used
How the app works in conjunction with the trap
how to install it
where this product can be used
and – of course – much more around eMitter Outdoor Direct.
App functions at a glance
The screenshots shown here are a preview of the new version of the app, which will be available soon. The current version differs slightly, but contains similar features.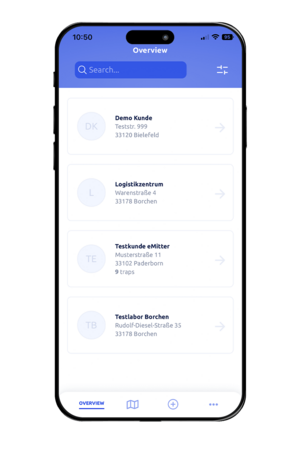 In the control center you can create, change and manage all eMitter products easily and uncomplicated.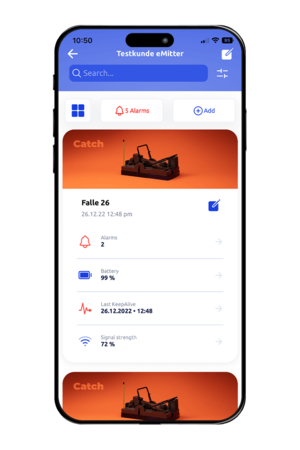 Keep track of all traps, transmitters, routers and controllers installed at your customers.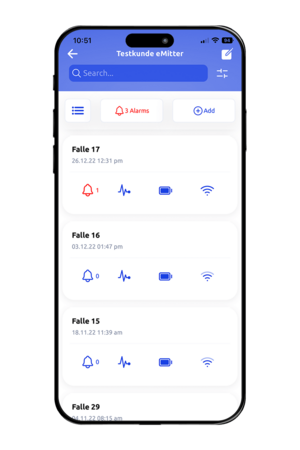 Check at any time and any place to see if anything has happened in your traps.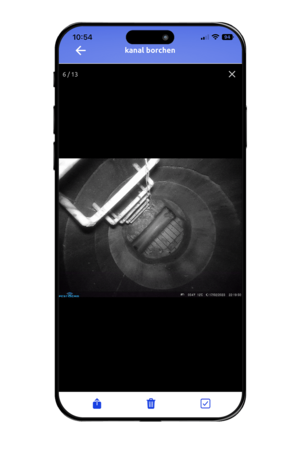 Get images captured by PestCam directly to your smartphone.
Do you have any other questions?