EMITTER STATIONS
The most effective stations for mouse and rat traps
Ideal for indoor outdoor use
No water collection in the box
Inaccessible for small children and larger animals
Can be combined with eMitter products
Integrated indicator
Vertical mounting on walls possible
The SWOPBOX can be opened by a simple rotation. The indicator on the side jumps outwards as soon as the trap would be triggered. This allows you to see if a mouse has been caught without opening the box.
A highlight of the box is its waterproofing. Even when mounted vertically on the wall, the monitoring block remains dry – perfect for use in areas that require daily basic cleaning.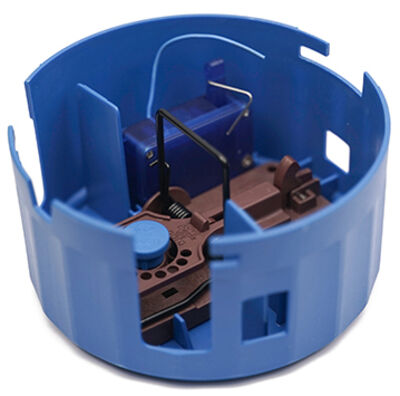 WHICH EQUIPMENT FITS MY STATION?
The SWOPBOX is designed for the use of eMitter Switch and a GorillaTrap. Through the eMitter app, you can see if the trap has triggered without opening the station. For high traffic areas, the use of eMitter BEEP makes sense. Despite the vertical position of the station, both the Gorilla Trap and the eMitter Switch act as in the usual position. This combination provides digital monitoring of the deployed traps, permanent monitoring and high efficiency in control.
Do you have any other questions?