PEST CONTROL APP - INSECT AND RODENT IDENTIFICATION 24/7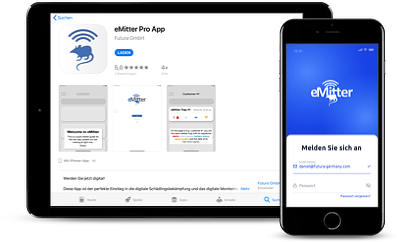 Apps can be used to order cabs, find spouses, or turn off the oven and lights at home. Apple introduced the first App Store in 2008. Today, it is impossible to imagine our lives without apps.
Like all new technologies, apps arrived at different speeds in different industries. They are still little used in pest control today, yet they can save pest controllers an enormous amount of time and make for happier end customers.
For example, how much time could you save if you no longer had to manually check impact traps and monitoring stations?
THIS IS HOW APPS ARE USED IN PROFESSIONAL PEST CONTROL
Apps are used in pest control in combination with digital beat traps and monitoring systems. They inform both the pest controller (service technician) and – if required – a contact person in the company as soon as a trap is triggered or a monitoring camera makes a recording. In addition, the app's user interface can be used to make settings (e.g., create new devices) and document observations (e.g., soiling).
THE BACKGROUND: WHY USE DIGITAL SYSTEMS IN PEST CONTROL AT ALL?
To understand where digital systems come in in pest control and why they will play an increasingly important role in the future, we make a few basic assumptions:
Rodenticides with anticoagulants (the so-called 2nd generation) are unsuitable for permanent baiting and are widely banned. Although their use was considered state of the art and widespread in past decades, according to the Biocide Regulation, these substances may now only be used in limited and very clearly defined exceptional cases (no proportionate measures or no alternatives possible) (more here).
Permanent monitoring is the basis for professional pest control. Infestation detection is one of the basic principles of pest control according to DIN 10523; various international quality standards require precise documentation of the infestation situation and preventive measures (e.g. structural measures), which can only be sensibly implemented on the basis of observations(more here).
Strike traps are a reliable alternative to rodenticides. Since there are numerous very sophisticated trap systems of various designs on the market, the use of poisons can almost no longer be justified. Strike traps are also excellent for monitoring rodents.
The animal protection law in Germany stipulates that a beater trap must be checked every day. Since it is not uncommon for a farm to set several hundred traps, it is impossible for one employee to check them daily – until now, this has been one of the biggest arguments against the use of impact traps.
And this is exactly where digital impact traps come into play. When triggered, they send a signal to a server, which in turn sends notifications to the responsible service technician and, if required, to a contact person at the plant – all via app.
This means that impact traps no longer need to be checked daily. The service technician can target exactly those traps that have sent a push notification to the app and record additional data directly in the app during the inspection, e.g. which pest was caught (incl. photo) or whether the trap was empty.
THE BENEFITS OF AN APP FOR PEST CONTROLLERS AND END CUSTOMERS
The service technician can save time thanks to an app and the associated system of digital impact traps and monitoring cameras – but what functions exactly are available to him? And what view does the end customer get to see?
Here is an overview: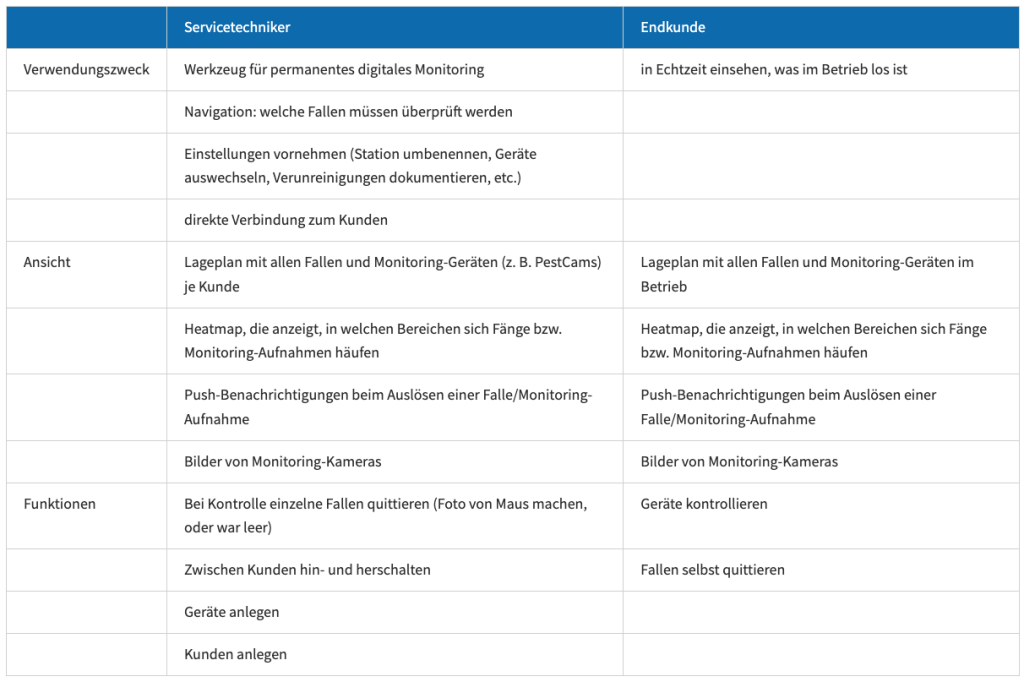 A LOOK AT THE TECHNOLOGY: HOW THE APPS WORK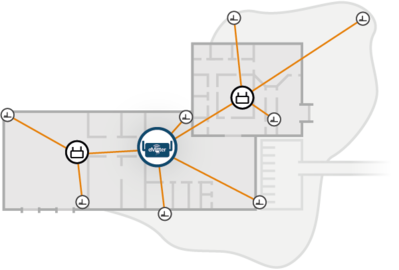 Each beat trap and monitoring camera is equipped with sensors. As soon as the trap is triggered or the camera detects motion, they send a signal to a gateway. This in turn processes the signal and can send push or email notifications to selected users.
The following information is transmitted:
Timestamp
Location
Image (for monitoring cameras)
Most impact traps can also be retrofitted with sensors. So if you already have a brand that you particularly like to work with, you can stay true to it and still work more digitally.
THE DREAM TEAM: A DIGITAL DOCUMENTATION SYSTEM + APP
As described, the app is used for device management and targeted trap control. It becomes even more useful when captured events (triggering traps and monitoring devices, recording observations, etc.) are transmitted directly to your digital documentation system.
Then, based on the app data, trend analyses and documentation can be created, for example. Futura Germany's app has an interface (API) for precisely this purpose, which can be integrated with a wide variety of digital documentation systems.
SUMMARY: THE FUTURE IS DIGITAL
Thanks to digital beat traps and monitoring cameras pest controllers can keep a close eye on a customer's operation 24/7 and only need to open boxes that have reported a catch via app. This eliminates the tedious and time-consuming daily check of traps, and you finally have more time to spend away from inspection points with your customers, identifying risks and providing advice.
Thus, your customers benefit from a much better service and can constantly get a comprehensive picture of the situation in their own company. Especially technically savvy customers and those who want a higher level of control appreciate these options.
Last but not least, digital systems in pest control eliminate the need for the use of poisons. This means that your customers are in a much better position for various audits and protect the environment with their actions – an aspect that more and more companies are taking into account.
Best of all, you can download and try our eMitter® Pro app for free. If you have any questions about digital systems (beat traps, monitoring, etc.), we are always at your service.
Download the eMitter® Pro app now for free
From Android 5.1. or iOS 11.0. For tablet or smartphone. Available in 9 languages.
There are no additional costs for using the app. To cover the running costs we charge an admin fee, which is already included in the annual eMitter administration fees.